Spinal cord injuries can affect every aspect of your daily life. From mobility to work-life, hobbies to family-life — sustaining a spinal cord injury instantly change your life and livelihood. Little things that you were once able to do without thought now are struggles. Many people even find themselves in need of live-in assistance following a spinal cord injury.
Spinal cord injuries should not be accepted as your new normal. You can fight them with medical care and fight for justice to ensure that whoever was responsible for your injury doesn't go unpunished.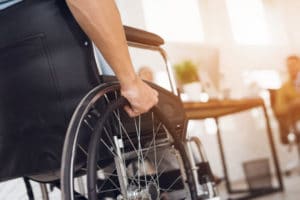 With the right legal help by your side, you can secure your financial state and ensure that you are not left to bear the weight of medical expenses on your own.
If you are struggling with a spinal cord injury, contact Shea & Shea today to speak with a spinal cord injury lawyer in San Diego.
Common Spinal Cord Injuries in San Diego
A spinal cord injury occurs when the spinal cord or nerves are damaged due to trauma. Spinal cord injuries often result in permanent effects such as loss of sensation, mobility, and strength. These effects are usually at and below the injury site.
The two types of spinal cord injuries are known as complete and incomplete spinal cord injuries.
Complete Spinal Cord Injuries
A complete spinal cord injury is when the victim is unable to move or feel below the point of injury. All sensation is lost and motor skills are gone. Though less common in San Diego, this is the more serious of the two spinal cord injuries.
Incomplete Spinal Cord Injuries
If a victim is able to feel or move below the injured point, they have an incomplete spinal cord injury. Victims of incomplete spinal cord injuries may recover some motor skills although the path to healing is long and difficult.
Effects and Symptoms of Spinal Cord Injuries
Spinal cord injuries can result in a number of painful, long-lasting (or permanent) effects. If you don't take care of yourself following a spinal cord injury, you could find yourself permanently disabled or with chronic pain. Here are some of the common effects of spinal cord injuries.
Paralysis below the point of injury
Loss of sensation below the injury point
Loss of mobility (the ability to walk or move one's limbs)
Incontinence (bladder or bowel issues)
Inability to live on your own and take care of yourself
Chronic pain
Inability to breath without assistance (a ventilator)
Symptoms of spinal cord injuries:
Numbness, tingling, or a loss of sensation in the limbs
Balancing, coordination, or mobility issues
Paralysis
Back pain or pressure
Difficulty breathing
Incontinency
When to See a Doctor For Your Spinal Cord Injury
Spinal cord injuries are extremely serious. You should never put off seeing a doctor if you suspect that you have suffered a spinal cord injury. Even if you don't have symptoms of a spinal cord injury, it's still essential that you are assessed if you have been in a traumatic accident.
Schedule an appointment with a medical professional who specializes in spinal cord injury as early as you can.
Delaying to see a doctor could result in permanent spinal cord damage and chronic pain, so schedule yourself an appointment as soon as possible.
When to See a San Diego Lawyer For Your Spinal Cord Injury
While doctors see to your physical health, lawyers see to your future and financial health. If you have been involved in a serious accident and sustained a spinal cord injury, you should immediately contact a San Diego spinal cord injury lawyer.
Spinal cord injury lawyers are attorneys who specialize in spinal cord injury law. They will be the ones protecting you legally and financially against the company or individual responsible for your injury. All too often, irresponsible companies and reckless individuals cause harm to others without ever facing legal consequences for their misdeeds.
It's paramount to hold companies accountable for their actions to prevent future injuries from occurring. This is where spinal cord injury attorneys come into play. A spinal cord injury lawyer will work with victims to take legal action against companies or individuals that are neglecting safety.
A good spinal cord lawyer will be able to build a strong case for victims to ensure that they receive financial retribution for their medical expenses and compensation for their pain and suffering.
Though it's impossible to place a price on pain, suffering, and anxiety, much of the anxiety that victims feel is directly related to the cost of medical care and being forced from the workplace. Though money itself cannot ease the pain of a spinal cord injury, it can alleviate the stress individuals feel about the high cost of medical care.
Contact a San Diego Spinal Cord Injury Lawyer Near You
You deserve to take care of your health, both now as well as later. The high cost of medical care in San Diego should never deter you from getting adequate care. In order to protect your physical, mental, and financial wellbeing, contact a spinal cord injury lawyer today.
At Shea & Shea in San Diego, we've been helping spinal cord injury victims for the past 30 years get justice. We know the pain, frustration, and fear that virtually all spinal cord injury victims experience and we want to use our legal knowledge to help you.
Contact Shea & Shea today to schedule your first consultation with a qualified spinal cord injury lawyer. Our spinal cord injury attorneys have helped countless victims find comfort as well as justice during times of difficulty. We want to help you do the same.
AREAS WE SERVE:
Oakland Spinal Cord Injury Lawyer |  San Francisco Spinal Cord Injury Lawyer | San Jose Spinal Cord Injury Lawyer