In the US, it is estimated that more than 17,000 individuals suffer from a new spinal cord injury each year. At Shea & Shea, our personal injury lawyers are fully aware that spinal cord injuries are very serious, affecting an individual's mobility, bodily functions, and often their ability to return to the workplace. 
Suffering from a spinal cord injury completely disrupts an individual's life, leaving them scared, in pain, and often in a financial crisis. Spinal cord injuries are difficult and expensive to treat medically — not only in the early stages of the injury, but most often over the patient's entire lifetime.  It is critical to obtain an accurate forecast of all future medical care that patient will require and never attempt to shortcut reasonable and necessary medical care for their condition.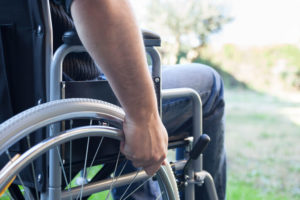 There are a number of reasons that a spinal cord injury may occur, but often they are inflicted due to the careless action of another individual or corporate manufacturer of an unsafe product. If this is the case and you or someone you know has suffered a spinal cord injury at the hands of someone else, you should seek out experienced legal help.
Spinal cord injury attorneys are specially trained and have vast experience to handle cases of this nature; they understand the impact — both past, present and future — that a spinal cord injury has and do their utmost to mitigate the devastating financial impact one of these injuries brings.
Contact Shea & Shea's spinal cord injury law firm to speak with an expert attorney and begin building your legal road map to justice.
Other areas we serve for spinal cord injuries:
What is a Spinal Cord Injury?
Extending from the brain to the waist, the spinal cord is a bundle of nerves that plays a vital part in the function of sensory and motor skills. 
Damage to the spinal cord results in a number of lasting and painful consequences such as a fractured vertebrae, which is why treatment and legal help following an accident should be a victim's first priority.
Spinal cord injuries are often divided into two categories:
Incomplete spinal cord injury: spinal injuries of this nature leave victims with some ability of function. Someone who has suffered an incomplete spinal cord injury may still be able to move limbs that are below the point of injury and he/she may still have sensation in parts of the body that are unable to move.  Rehabilitation is often most effective with this level of injury.

Complete spinal cord injury: this type of spinal cord injury means that there is essentially no function or sensation below the point of injury. 
It's important to note that not all spinal cord injuries mean that the spinal cord has been entirely severed. Victims may still have an attached spinal cord and yet be unable to move their limbs and experience normal mobility. In scenarios where the spinal cord is not severed, victims may regain mobility and sensation in their limbs once the affected bones have been treated.
The spinal cord is critical to bodily function and an injury to it can result in a loss of certain functions, sensitivity, and mobility like quadriplegia or paraplegia.  Incomplete or complete spinal cord injuries both require immediate medical care. Be certain that the law firm you're considering to represent you has extensive experience with this special type of injury.
Effects of Spinal Cord Injuries
There are various effects of spinal cord injuries which may be permanent. 
Some common effects of spinal cord injuries are:
Paralysis

Loss of sensation

Loss of motor function 

Loss of mobility

An inability to breath on one's own 

Inability to regulate body temperature

Chronic co-morbidities

Bowel or bladder control issues

Loss of independence
The extent that a spinal cord injury affects your life, and the lives of those around you, is something that should be considered gravely and dealt with appropriately. 
If you have suffered your injury due to an individual's or company's negligence, you may be considering legal action against the wrongdoer. This is an important consideration considering the consequential effects a spinal cord injury presents. Your best course of action begins with hiring a spinal cord injury law firm experienced with this type of injury.
Causes of Spinal Cord Injuries
There are many different things that could result in a spinal cord injury.  Virtually everyone is at risk of receiving a spinal cord injury. 
Spinal cord injuries do not just occur to daredevils and extreme risk-takers. Anyone can sustain a spinal cord injury on any given day.
Some of the most common causes of spinal cord injuries include:
Vehicular or motorcycle accidents: this is actually the leading cause of spinal cord injuries accounting for nearly half of new spinal cord injuries in the US yearly.

Violence & trauma: A shocking 13% of spinal cord injuries every year are due to violence.

Sporting accidents: these include diving accidents, rope-swing incidents, as well as collisions between sportsmen.

Slips & falls: this cause for spinal cord injuries happens commonly among seniors.

Disease: conditions such as cancer, osteoporosis, and arthritis all can result in a spinal cord injury due to complications.
When to See a Doctor for Your Spinal Cord Injury
If you have been involved in an incident of any kind or have had a violent encounter, you should seek medical care immediately. Spinal cord injuries are extremely dangerous and should be treated by a medical professional.
Getting Help From a Spinal Cord Injury Law Firm
Here at Shea & Shea, we deeply understand the impact that spinal cord injuries have on a person's life and livelihood; the "ripple-effect" these injuries have on a patient's family are devastating.  We specialize in spinal cord injury law and have guided victims of spinal cord injuries through the legal system with great success.
We know the physical and emotional drain that a spinal cord injury lawsuit has over someone — especially when they've just gone through a traumatic experience. 
Let us help you through this difficult time with our expert legal skills.
You Need a Spinal Cord Injury Lawyer on Your Side
Contact us to schedule your first consultation with a spinal cord injury lawyer.
The law affords you important rights if you have suffered this type of injury.  Protect your financial future by taking legal action against the party or parties responsible for causing your spinal cord injury.
Give Shea & Shea a call today to discuss your case with a skilled spinal cord injury lawyer.
Other Service Areas We Serve:
Catastrophic Injury
Brain Injury
Spinal Cord Injury
Loss of Hearing
Los of Vision
Back Injury
Wrongful Death
Birth Injury
Pediatric Injury
Amputation Injury
Burn Injury